Equinox Festival '17
Friday, September 22, 2017
UTSA Main Campus
The Equinox Festival '17, UTSA's annual sustainability festival, showcases the university's and the City of San Antonio's progress on researching and developing sustainable solutions to improve the quality life for future generations. Held on September 22 of every year, the event links students, community members, and local businesses in a day full of music, games and awards.  You can also register to vote on site from 11 a.m. to 3 p.m.   The Roadrunner Pantry will be collecting nutritious food and non-food items for students in the HUC Ballroom.  Equinox Festival Flyer  Volunteer Flyer  Equinox Media Release
Now accepting applications for exhibitors, speakers, and sponsors.  Equinox UTSA Exhibits & Sponsorship Information
Contact: Alejandro Trevino, Texas Sustainable Energy Research Institute, alejandro.trevino@utsa.edu or equinoxfestival@utsa.edu
Learn about the poster session and how to submit your poster.  Poster submission contact:  Dr. Keith Muhlestein at Keith. Muuhlestein@utsa.edu.  Equinox Festival Sustainability Poster Session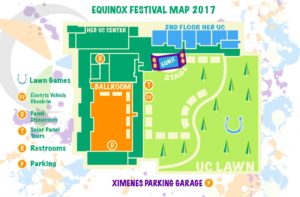 Participate in:
Solar Panel Tours
Electric Vehicle Exhibits
VIA compressed natural gas bus demonstration
Music, Food, Exhibits, Games, Fun
Rowdy Environmental Showdown with Wile E Coyote…and the Minions
Scientific poster sessions on a range of sustainability research (3′ x 4′) will be available from 10 a.m. to 6 p.m. Poster presentations will be held in the HUC Ballrooms from noon – 2 p.m.
Panel Discussions are expected to cover the following topics and how they relate to sustainability:
Tentative Panel Line-up: (subject to change)
11:00 a.m.
San Antonio Leadership: Mayor Ron Nirenberg; UTSA President Taylor Eighmy; Paula Gold-Williams, President and CEO of CPS; and moderator Dr. Mauli Agrawal, UTSA Interim Provost and Vice President for Academic Affairs. District 8 Councilman Manny Pelaez will provide opening remarks.
12 noon
Operational Sustainability: Doug Melnick, Director of Sustainability, City of San Antonio; David Riker, UTSA Associate VP for Facilities; Dr. Francine Romero, UTSA Associate Dean of Public Policy; Cris Eugster, COO, CPS; John Anderson, Aramark Regional Sustainability Champion
1:00 p.m.
Sustainability Research: JoAnn Browning, Ph.D., P.E., Dean, UTSA College of Engineering; Dr. Krystel Castillo, Director, Texas Sustainable Energy Research Institute; Dr. Hariharan Krishnaswami, Assistant Department Chair, UTSA Department of Electrical and Computer Engineering; Dr. Bing Dong, UTSA Assistant Professor, Mechanical Engineering
2:00 p.m.
Student Leadership: Rebecca DeLeon-Hutton, President of Green Society; Anthony Govea, SGA; Alejandro Trevino, TSERI Student Researcher; Carli Martinez, UIW Sustainability Scholar; Peter De La Cruz, Velox Racing Team (Biographies of speakers)
3:00 p.m.
Transportation: Jeffrey Arndt, President/CEO, VIA Metropolitan Transit; Linda Alvarado-Vela, Planning/Public Involvement Program Manager, Alamo Area MPO; Clay Haverland, UTSA Assistant VP for Campus Services; William Barker, Adjunct Associate Professor, Transportation
4:00 p.m.
Water: Robert Puente, President and CEO, SAWS; Annalisa Peace, Chair, Program Committe on Water, Greater Edwards Aquifer Alliance; Luanne Buckner, EEA; Michael Lackey, PE, San Antonio River Authority; Dr. Marcio Giacomoni, UTSA Professor of Engineering (invited)
5:00 p.m.
Climate Panel: Dr. David Sullivan, Research Associate at The University of Texas at Austin Center for Energy and Environmental Resources; Dr. Richard C. Jones, UTSA Professor of Geography and Environmental Sustainability; Dr. Nazgol Bagheri, Assistant Professor, UTSA Department of Political Science and Geography
3:00 p.m. Loeffler Room, BSB 3.02.02: Cybersecurity Panel (planned): Gerardo Trevino, Electric Power Research Institute; Paul Rad, UTSA Associate Professor, College of Business; Jeff Prevost, UTSA Assistant Professor, Electrical and Computer Engineering; Alex Trevino
4:00 p.m. Loeffler Room, BSB 3.02.02: Innovation in Sustainability (tentative): Lorenzo Gomez, CEO, Geekdom; Jose De La Cruz, Chief Innovation Officer, COSA; Michael Girdley, CEO, CODEUP; Dr. Cory Hallam, UTSA Professor and director of the Center for Innovation and Technology Entrepreneurship (invited)
6:00 p.m.
Community Engagement Roundtable: Dr. Francine Romero, UTSA Associate Dean of Public Policy; Peter Bella, Environmental Activist; Keith Muhlestein, UTSA Director of Sustainability
The discussion will focus on community inclusion in the development of public policy regarding sustainability. As with all events during the day, members of the community are welcome and encouraged to attend and engage in the conversation.
Learn about economical and environmentally friendly commuting options at UTSA. Take VIA to the Festival! Routes: 93, 94, 101, 603/605, and 660.   Park at the University Park & Ride, I-10 & 1604, and take the VIA.  Bike, walk, or carpool to the event!
Icons made by Freepik from www.flaticon.com