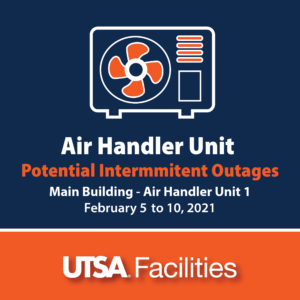 (February 5, 2021) — Air Handler Unit (AHU) 1, which provides air conditioning and heating to a large portion of the Main Building (MB), is currently experiencing technical issues. Repairs are scheduled to start Friday, February 5, 2021 and should be completed by Wednesday, February 10, 2021.
Please be aware that repairs might cause temporary intermittent outages. In addition, building occupants may experience abnormal temperatures. Attached is a map with affected locations. Main Building AHU Map
We will send an update notification when the AHU is repaired. For additionally information, please contact the Facilities Service Center at (210) 458-4262.