(May 1, 2018) – Harsh New England temperatures did not deter Andrew Goodenough, Facilities Project Coordinator, from realizing his goal of running in the Boston Marathon. On Monday, April 16, 2018, amid temperatures in the upper thirties and heavy rains with wind gusts of more than twenty miles per hour, Andrew completed one of the oldest and best-known races, the Boston Marathon.
Unlike other marathons, runners must first meet qualifying standards that include running in certified Boston Marathon qualifiers and meeting acceptable qualification times. Andrew has competed in many races, but his qualifier was the Houston Marathon, which he ran in under three hours and thirty minutes. When asked how he did in Boston and what he thought about the experience, he said, "I did well. I finished in 3 hours and 57 seconds. It was like one big family with fans lined up from start to mile marker twenty-six. It was great."
Congratulations Andrew!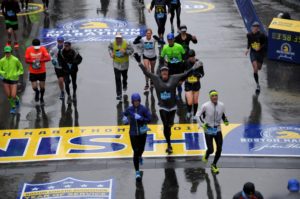 Andrew (Center with Arms Raised) Crosses the Finish Line at the 2018 Boston Marathon