(November 4, 2019) – In the summer of 2018, Facilities identified major repairs required for the 500-ton constant speed electric chiller that for years had provided environmental cooling to the UTSA Downtown Campus Buena Vista Building (BVB), Frio Street Building (FSB), and Durango (DBA & DBB) buildings. The chiller, a smaller size capacity ideal for winter operations, was nearing its useful service life.
After weighing the costs of repairs versus the purchase of a new chiller, the end savings favored the higher initial cost of installing a new variable frequency drive electric chiller. The chiller was purchased and installed in January 2019, less than a year after the project was identified.
The new chiller is expected to provide reliable efficient cooling for the next twenty years but will pay for itself in under five years thanks to the energy efficiency rebate of $37,000 from CPS Energy and an estimated annual energy savings of $24,000.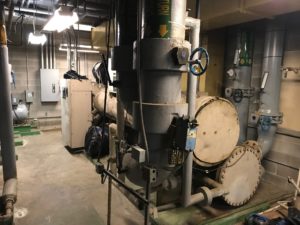 Old Chiller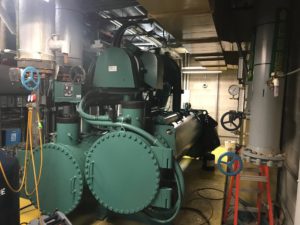 New Chiller