(October 7, 2019) – The Office of Facilities is pleased to announce the selection of Mr. George Morales as the new Campus Facilities Engineer. His appointment is effective October 1, 2019 and he will be a part of the Facilities Operations and Maintenance department. As the Campus Facilities Engineer, Mr. Morales will support the Facilities maintenance programs in a range of areas including those associated with preventative, corrective and planning, for both existing and new facilities.
Mr. Morales brings 40 years of experience in a variety of technical, engineering and leadership roles including operating and maintaining of university facilities; managing energy, utilities and associated infrastructure; designing and engineering of building systems; oversight of safety services; planning, design and project management of construction projects; and campus master planning, property acquisition and space management. He has previously served in several Facilities related positions including the Director of Facilities Services at UTSA and the Assistant Vice President for Physical Plant and Support Service at Texas Tech University Health Science Center. He is excited about his return to UTSA and looks forward to working and collaborating with the Facilities team and the greater UTSA community.
Mr. Morales earned a Bachelor of Science degree in Mechanical Engineering from Texas A&M University, a Master of Engineering from Texas Tech University, and an MBA from the University of Texas – Pan American. Mr. Morales is a Licensed Professional Engineer in the State of Texas and a Certified Energy Manager. Please welcome George Morales back to our Roadrunner Nation.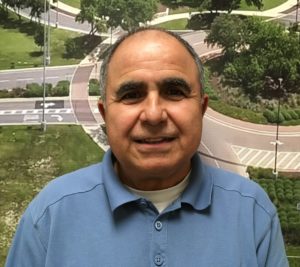 George Morales