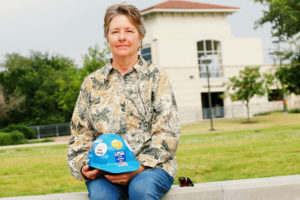 Susan Whitley, holds the hard hat of her late husband, Max Hanners. Hanners was diagnosed with cancer shortly after retiring from UTSA. To honor his legacy, Susan has established a scholarship in his name. (Photo: Yvonne Zamora Byrd)
(14 June, 2018)  – For many people life after retirement is supposed to be joyous— a chance to check off that bucket list and do the things you never had the time to do. But for Max Hanners, two weeks after retiring from UTSA he was diagnosed with stage four pancreatic cancer. A year later he passed away.
"It was hard," said his wife Susan Whitley. "He retired and two weeks later he started chemo."
To honor his legacy, Susan, who is also retired from UTSA, established the Max William Hanners Endowed Scholarship. Benefiting students in the College of Sciences, the scholarship, said Susan, is something Max would be proud of.
"If Max were here he would say 'thank you.' He was so proud to work at UTSA— he knew so many people and touched so many lives that I just want them to remember him," said Susan.
Susan and Max met on campus in 1990. She worked in the Bursar's Office, and he as a groundskeeper while working toward a master's degree at UTSA. Fast forward two decades, and the couple found themselves thriving in their careers at the university. Susan was a business manager for UTSA's Office of Facilities, and Max was Assistant Director of IT, where he helped oversee construction on key components of the Downtown Campus, the Rec and Wellness Center, and the Biotechnology, Sciences and Engineering Building, to name a few.
After 20 years of service, Max decided to retire. A visit to the clinic and a blood test would later confirm he had cancer. Max died April 14, 2012. He was 61.
With a passion to help others, and a desire to keep her late husband's legacy alive, Susan reached out to the planned giving team at UTSA. After exploring the various ways of creating a scholarship, she decided to fund an endowed scholarship now to immediately help students. Susan is also allocating a percentage of her estate later to further grow the Max William Hanners Endowed Scholarship, ensuring the scholarship will live on forever.
"We're celebrating Max," said Susan, who has enlisted the help of friends and fellow Roadrunner staff to grow the scholarship. "It's nice to see how much everyone loved him— to have their support and hear their stories makes me smile."
– Yvonne Zamora Byrd
To learn more about how you can establish a special scholarship like Susan, visit giftplan.utsa.edu. Or Contact Kim West at 210-458-7307, Kimberly.West@utsa.edu.