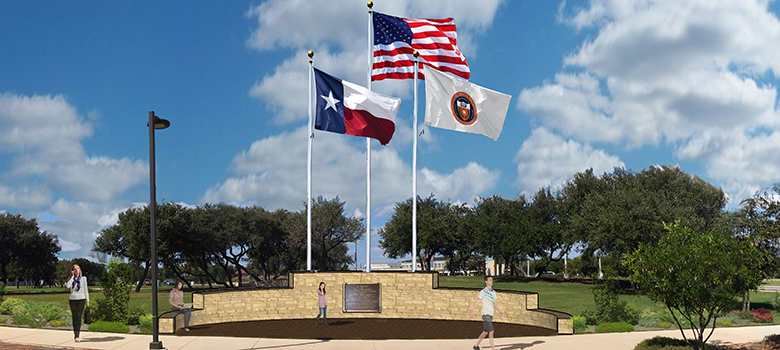 Project Details
---
Substantial Completion
12/8/2017
Total Projected Cost
$284,000
Architects
Moy Tarin Ramirez
Engineers, LLC
San Antonio, TX
Contractors
Mission 1 Contractors
Garden Ridge, TX
The Roadrunner Memorial Garden wall and location of flagpoles will be slightly different than what is portrayed in the rendering above.  Please refer to the Roadrunner Memorial Garden Drawing below for an accurate depiction.
Summary: The Roadrunner Memorial Garden will provide a designated place on campus where students, faculty, and staff can visit to remember those who have passed away.  It will include a semicircular paved plaza with a limestone faced, three-tiered, semicircular retaining wall defining to its edge.  Three flagpoles with concrete foundations will be constructed and erected north of the stone-faced retaining wall.  LED up lighting will be installed to illuminate each flagpole at night and electrical infrastructure will be added for future tree well lighting.  The pavers and limestone will be similar to the existing materials currently located at the oval and surrounding areas.  A bronze plaque with and engraved memorial message will be installed on the south side of the retaining wall.
Location: UTSA Main Campus at the northern edge of the UTSA Oval and south of Peace Circle.
Roadrunner Memorial Garden Drawing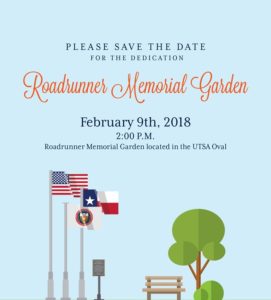 Construction of the Roadrunner Memorial Garden began on September 25, 2017
PHOTO GALLERY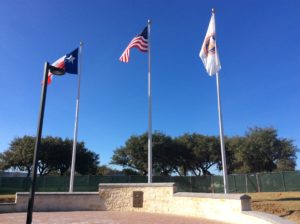 Construction is near completion:  January 4, 2018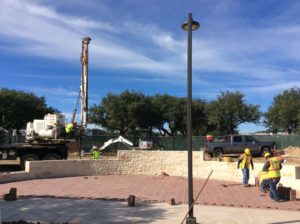 Construction in progress:  November 22, 2017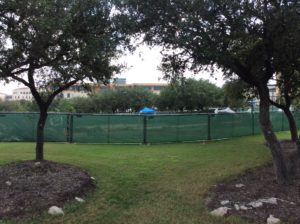 Site of Roadrunner Memorial Garden: October 6, 2017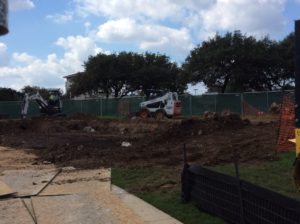 Site Excavation: October 6, 2017