IF THIS AN EMERGENCY, CALL 458-4262.
AFTER BUSINESS HOURS (5:00 P.M. TO 8:00 A.M.), CALL 458-5277.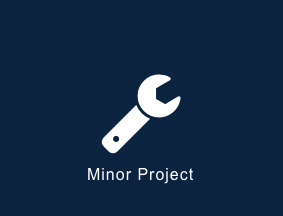 In accordance with the Handbook of Operating Procedures, Chapter 8, any modification, alteration, or addition to the physical structure of a UTSA owned or leased facility, regardless of the funding source, must be performed by Facilities.
Minor Project Examples
Add electrical outlets
Build a custom bookcase
Install whiteboard
Minor renovations
Paint walls out of normal cycle
Replace carpets out of normal cycle
HOW TO REQUEST A MINOR PROJECT
1.

Select the orange "Minor Project Request" button

2.

Complete the "Minor Project Request" form. All fields in RED are required. Please provide as much detail as possible in the "Request" field.

Please provide a valid Cost Center with funding available to cover the expenses.
If the request affects and/or alters the use, physical layout, or size of any room or space, please provide the approved Space Request number assigned by Facilities Space Management.

3.

Click "Submit" once you have completed the form.

4.

A confirmation page will be displayed after you submit the request.

5.

The Facilities Service Center (FSC) will process your request and send you an e-mail with your Work Order number.

6.

A Facilities representative will contact you to schedule a visit and confirm the scope of work.

7.

Once the scope of work is determined, FSC will send you a cost estimate for approval.

8.

Upon approval of the estimate, Facilities will schedule the work to begin.

9.

You can monitor the progress of your Work Order by using the "Search by Number" feature of the Facilities iService Desk.

10.

When the Work Order is complete, you will receive an email notification and an invitation to complete a customer satisfaction survey.

For additional information or assistance, please contact the Facilities Service Center at FacilitiesServiceCenter@utsa.edu or 458-4262.