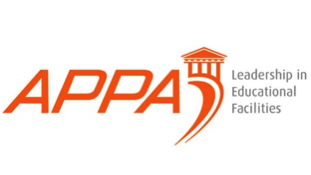 1643 Prince Street
Alexandria, VA 22314
703.684.1226
www.appa.org
Contact: Trish St. Michel
202.276.2874, trish@appa.org
The University of Texas at San Antonio Recognized for Excellence in Facilities Management

July 14, 2016, Alexandria, Va. – APPA is pleased to announce that The University of Texas at San Antonio (UTSA) has received the 2016 Award for Excellence in Facilities Management.
The Award for Excellence, which highlights the essential role of facilities operations in the overall institutional mission and vision, is APPA's highest institutional honor. Recipient institutions gain national and international recognition for their outstanding achievements in facilities management. The Award for Excellence designation is valid for a period of five years.
"The institutions that receive the Award of Excellence are true leaders in educational facilities management," said Paul Wuebold, APPA's Vice President, Professional Affairs, and the chair of the Awards and Recognition Committee. "UTSA's Facilities team has overcome a multitude of environmental, logistical, staffing, and other challenges to become a high performance facilities organization with goals closely aligned with those of the institution. UTSA Facilities has been strategic in planning and executing this transformation; using a lean and functionally efficient organizational structure, hiring and retaining outstanding leaders and staff, building excellent processes, implementing critical performance metrics, completing improvement initiatives, and providing first-class facilities and infrastructure."
The APPA Award for Excellence is designed to recognize and advance excellence in the field of educational facilities. Award for Excellence nominations are in the areas of: leadership; strategic and operational planning; customer focus; information and analysis; development and management of human resources; process management; and performance results. Nominated institutions also submit to a site review conducted by an awards evaluation team.
New Mexico State University and The Ohio State University also were honored with the 2016 Award for Excellence.
Recipient institutions were recognized July 14 during the awards banquet at the 2016 APPA Annual Conference in Nashville.
APPA, previously known as the Association of Physical Plant Administrators, promotes leadership in educational facilities for professionals seeking to build their careers, transform their institutions, and elevate the value and recognition of facilities in educations. APPA is the association of choice for more than 12,000 educational facilities professionals from 1,300 educational institutions in North America. www.appa.org