If this is an emergency, call 458-4262.
After business hours (5:00 p.m. to 8:00 a.m.), call 458-5277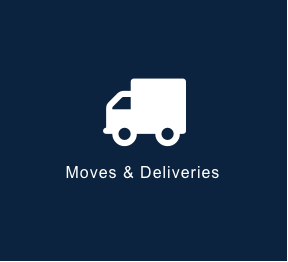 Do you need furniture, equipment, or artwork moved? Do you have large items at the Central Receiving Warehouse that you need delivered and set up? The Facilities Support Activities and Moves (SAM) team is ready to do the heavy lifting for you. Please submit your Move or Delivery request at least 14 calendar days prior to the date needed. This will ensure that we have the proper staffing, equipment, and planning time needed to schedule your move. To request a Move or Delivery, please submit a service request by selecting the Move Request button.
Moves and Deliveries Examples
Move furniture
Deliver items from Central Receiving Warehouse
Move equipment
Deliver or move university artwork
How to request Moves and Deliveries
1.

Select the orange "Move Request" button

2.

Complete the "Move Request" form. All fields in RED are required. Please provide as much detail as possible in the "Request" field.

Please provide a Cost Center other than a Function 800 Cost Center.
If moving art work, you must include an approved UTSA Art Loan Form with your request

3.

Click "Submit" once you have completed the form.

4.

A confirmation page will be displayed after you submit the request.

5.

The Facilities Service Center will process your request and send you an e-mail with your Work Order. They will then contact you to confirm the scope of the work and schedule the date and time for your move or delivery.

6.

You can monitor the progress of your Work Order by using the "Search by Number" feature on the Facilities iService Desk.

7.

When the Work Order is complete, you will receive an email notification and an invitation to complete a customer satisfaction survey.

For additional information or assistance, please contact the Facilities Service Center at FacilitiesServiceCenter@utsa.edu or 458-4262.