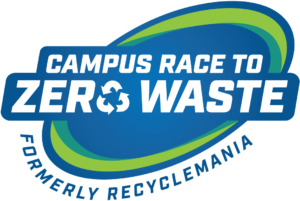 (February 11, 2021) – For the past 14 years, UTSA has participated in the Campus Race to Zero Waste (formerly known as RecycleMania), a competition between colleges and universities across the U.S. and Canada to advance campus recycling and waste reduction efforts. The 2021 competition runs from January 17 to March 27, 2020 and we encourage all Roadrunners to participate in the friendly recycling competition.  Let's win this year Roadrunners!
Reasons to Participate
While the main goal of the Campus Race to Zero Waste competition is to reduce waste and lower our school's environmental footprint there are many other reasons why you should participate.
• Be part of a fun and friendly competition with colleges across the US and Canada.
• Benchmark your school's recycling and waste reduction efforts against other campuses.
• Leverage school spirit to engage and motivate students, faculty, and staff to recycle and reduce waste.
• Generate attention and support for expanding recycling and waste reduction programs.
• Earn credit for AASHE STARS (Campus Engagement) and the President's Climate Commitment
Diversion Category
This year, UTSA will be competing in the Diversion category. The Diversion category is for campuses that have the ability to track and report on recyclables (cans/bottles, paper and cardboard), food organics, and trash on a weekly basis. To be ranked in this category, schools must provide their cans/bottles, trash, paper, and cardboard weights. Electronics and other non-commodity recyclable or compostable materials such as construction debris or yard waste are not included in the Diversion.
The ultimate goal for this category is to effectively divert waste from the landfill through reduction and recycling strategies. Therefore, at the end of the competition, the school with the highest recycling rate will be crowned winner for having a strong recycling program that efficiently reduces their environmental footprint.
Results
Competition results are calculated using the following equation.
Weight of Recyclables + Food Organics x 100
—————————————————————– = XX%
Weight of Recyclables, Food + Weight of Trash
For more information about the Campus Race to Zero Waste competition and how you can reduce your environmental footprint, please visit https://recyclemania.org/.