Single-stream Recycling
In an effort to recycle more and reduce our impact on the environment, UTSA has adopted a single-stream recycling process to decrease waste and increase recycling. In this process, all recyclable items are placed in a single container and are sorted off-site at a recycling facility. This is similar to the recycling program implemented by the City of San Antonio. Please watch our video below  for more details!
Recycling at UTSA
Recycling and waste minimization efforts don't just save money—they contribue to a sustainable environment and a greener campus. Our goal is to improve our recycling efforts year over year. In recent years, the UTSA community has recycled hundreds of tons of mixed paper and cardboard, electronics, lamps, batteries, glass, metal, plastic and others materials.  We provide recycling containers for all faculty, staff and students at the University housing. Indoor and outdoor receptacles are located throughout campus, offering a convenient way for everyone to do their part.
What Can You Recycle?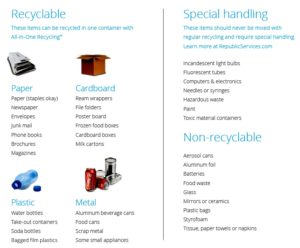 The Mini Trash Bin Program
This waste minimization program is designed to make each individual aware of and responsible for the waste that he or she generates. The mini-bin is a small trash receptacle that attaches to your personal recycle bin and is a constant reminder to recycle more and produce less waste.
Start by placing all recyclable items into your desk-side recycling container. Recyclable items include all paper, aluminum, plastic, and small cardboard boxes. Start using your new mini-bin for any item that is not recyclable. This includes soiled tissues, apple cores, banana peels, and any other items that cannot be recycled. When the mini-bin waste is full or when you want to empty its contents, take it to the centralized trash station located on every floor of every building or any campus restroom and empty it into the trash container.
Most of the waste generated in an office is paper, which should be recycled. When you get right down to it, there is not much trash left over at the end of the day in your mini-bin. The mini-bin will save the University from using thousands of plastic trash bags each year, as well as help you be aware of the amount of waste you personally generate throughout your day.
Important Documents and Links
Recycling Management Plan 2018
Source Reduction Waste Minimization Plan 2011-2016