If this an emergency, call 458-4262.
After business hours (5:00 p.m. to 8:00 a.m.), call 458-5277.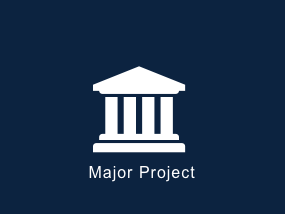 In accordance with the Handbook of Operating Procedures, Chapter 8, any modification, alteration, or addition to the physical structure of a UTSA owned or leased facility, regardless of the funding source, must be performed by Facilities.
Major Project Request
Major Project Examples
Additions to buildings
New construction
Major building/system repairs
Renovations (classroom, office, lecture halls, laboratories, public use areas)
Before Proceeding With a Renovation
or New Construction Project
Obtain concept approval and discuss funding options with your Vice President.
If your renovation will change the size or function of a space, you must obtain approval from Facilities Space Management prior to submitting your Work Request.
If the project affects the civic structure or public realm of the university, your request must be reviewed by Facilities Planning and Development.
HOW TO REQUEST A MAJOR PROJECT
1.

Select the orange "Major Project Request" button

2.

Complete the "Major Project Request" form. All fields in RED are required. Please provide a detailed description of the desired project in the "Request" field.

Please provide a valid Cost Center with funding available to cover the expenses.
If the request affects and/or alters the use, physical layout, or size of any room or space, please provide the approved Space Request number assigned by Facilities Space Management.
Note: You will not be charged for preliminary scope development or cost estimating

3.

Click "Submit" once you have completed the form.

4.

A confirmation page will be displayed after you submit the request.

5.

The Facilities Service Center (FSC) will process your request and send you an e-mail with your Work Order number.

6.

A Facilities Project Manager will be assigned to the project. The Project Manager will:

Meet with you to discuss the project scope.
Walk the site.
Gather technical information.
Develop a detailed project work plan

7.

Once the scope of work is determined and the Project Manager prepares an estimate, FSC will send you the cost estimate for:

Department review
VP approval
Signatures

8.

When you receive the cost estimate, obtain VP approval signatures on the last page of the Cost Estimate form.

9.

Return the signed Cost Estimate form to FSC (FacilitiesServiceCenter@utsa.edu). Upon receipt, Facilities will schedule the work to begin. The Project Manager will include you throughout the design and construction process. As the detailed Work Plan is developed and refined, several factors must be considered:

Codes and Standards
Hazardous Materials Abatement
Information and Technology
UT System & Government Regulations
Academic Technology
Access Control
Security
Fire & Life Safety
Furniture
Scheduling
Americans with Disabilities Act (ADA)
Texas Commission on Environmental Quality (TCEQ)

10.

You can monitor the progress of your Work Order by using the "Search by Number" feature of the Facilities iService Desk.

11.

After construction is finished, the Facilities Project Manager will:

Follow up on punch list items – with your assistance
Complete final billing
Provide warranty assistance for one year

12.

At the end of the project, Facilities Customer Service will send you a customer service survey via email.

For additional information or assistance, please contact the Facilities Service Center at FacilitiesServiceCenter@utsa.edu or 458-4262.