( 14 April, 2017) – – The Texas Association of Physical Plant Administrators (TAPPA) presented their first "Stars Across Texas" award, in recognition of facilities management excellence, to the UTSA Office of Facilities. "I was proud to accept the award on behalf of the university and the outstanding men and women of UTSA Facilities whose daily efforts to provide excellent facilities for the faculty, staff, and students of UTSA made this award possible," said Dave Riker, Associate Vice President for Facilities. Dave accepted the award on April 11 at the 2017 TAPPA Conference in Fort Worth, Texas. Congratulations to the UTSA Office of Facilities for being the first recipient of this statewide award.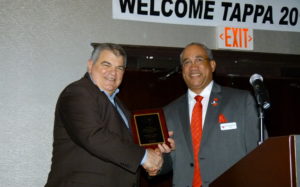 Dave Riker accepts the Stars Across Texas award
———————–
TAPPA promotes leadership in educational facilities for professionals seeking to build their careers, transform their institutions, and elevate the value and recognition of facilities in education. TAPPA represents over 175 Texas education organizations including universities, junior and community colleges, and 4-year colleges with over 400 members who are actively involved in the administration and operation of facilities at institutions whose main emphasis is education.