(May 7, 2021) – The Texas Department of Transportation (TxDOT) is moving forward with plans to improve approximately 23 miles of Loop 1604 from SH 16 (Bandera Rd.) to I-35 in north Bexar County.
The Loop 1604 Expansion Project involves several non-toll transportation improvements that are designed to improve mobility, reduce congestion and enhance safety along the high-traveled corridor.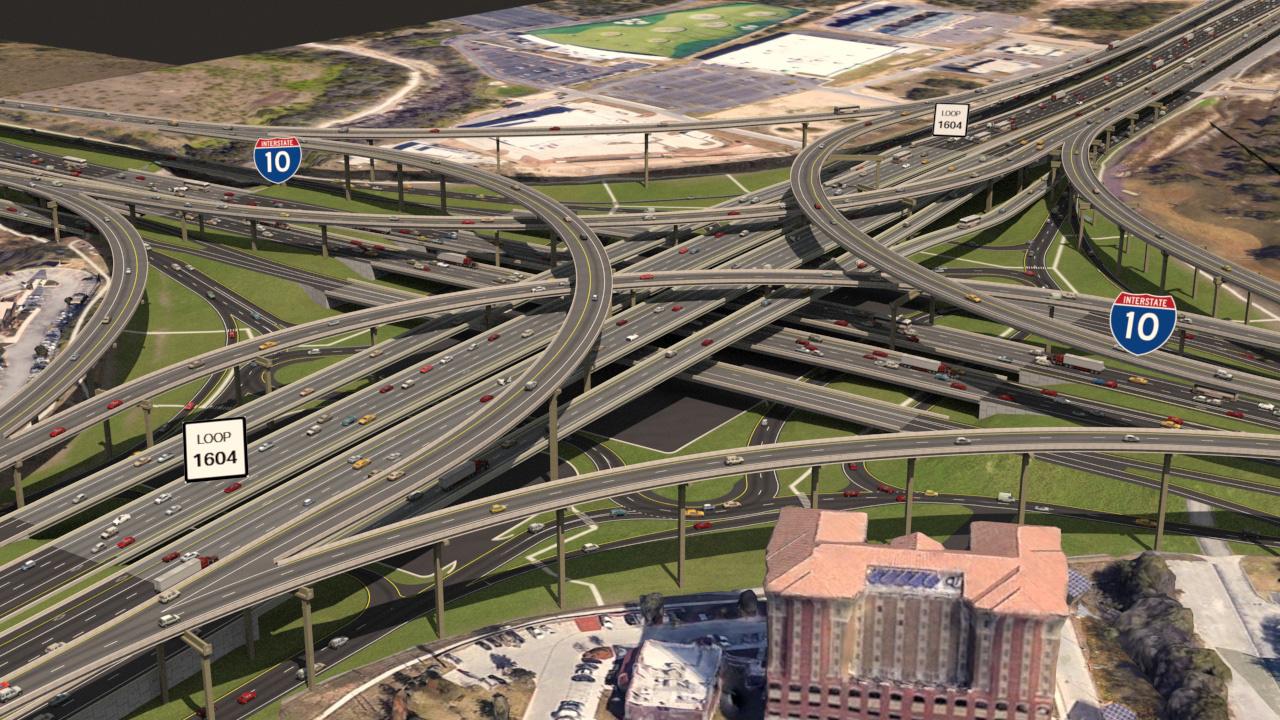 Loop 1604 and I-10 Interchange Visualization
Construction on Segment 1 of the project is set to start soon with improvements from SH 16 (Bandera Rd.) to I-10 in northwest Bexar County.
Over the next few weeks, drivers will see message boards and signs along the corridor in preparation for construction. Crews will also begin preparing work zones with barrier placements and re-striping operations.
Drivers may see some lane closures on and around Loop 1604 from Babcock Rd. to I-10. The following lane closures have been scheduled for the next two weeks starting Monday, May 10 to Friday, May 21 every night from 9:00 p.m. to 5:00 a.m.
Eastbound Loop 1604 entrance ramp to La Cantera Parkway

DETOUR: La Cantera Parkway traffic will continue on eastbound frontage road and enter Loop 1604 at next entrance ramp.

Eastbound Loop 1604 exit ramp to Vance Jackson

DETOUR: Traffic will be directed to exit at La Cantera Parkway, merge to the frontage road, and travel through the La Cantera Parkway intersection.
*Note: Closures are subject to change, due to weather.
Stay in the loop with project updates and closure information by subscribing here.