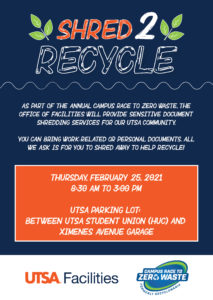 (February 11, 2021) – Facilities is excited to once again provide document shredding services at our annual Shred 2 Recycle Day. The campus-wide event will take place on Thursday, February 25, 2021 from 8:30 a.m. to 3:00 p.m. at the parking lot between the H-E-B Student Union (HSU) and the Ximenes Avenue Garage (XAG). This event will be part of the Campus Race to Zero Waste 2021. Paper collected will contribute to our recycling count for the competition and will be shredded by Republic Services at their secure off-campus location.
All documents are welcome. You can bring work, school, or personal documents. All we ask is that you shred away to help us recycle!
To learn more about Campus Race to Zero Waste, please visit https://facilities.utsa.edu/campus-race-to-zero-waste-2021/. For additional information on the event or competition, please contact the Facilities Service Center at (210) 458-4262.